NGC exhibited at Shanghai's New Energy Vehicle Supply equipment show 2023
In August 2023, NGC made its debut at the 9th Shanghai International New Energy Vehicle Technology and Supply Chain Fair exhibiting its drive products for new energy vehicles. 300 industrial media representatives from more than 20 countries visited the 70,000 m² exhibition to get up-to-date on all the latest trends from the 1,000 brands on show.
NGC's new energy vehicle business is focused on high-speed gearbox and drive products for new energy passenger and commercial vehicles. At this exhibition, NGC demonstrated electric vehicle products, including high-speed reduction boxes with parallel shafts, as well as the NGW and NW planetary gear boxes with high-power density and precision gear drive units.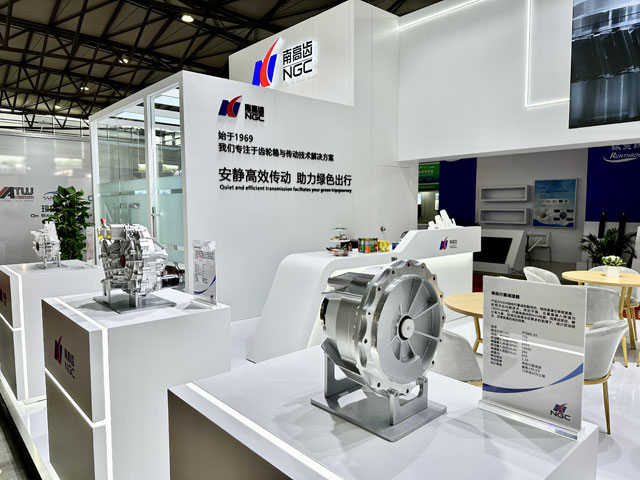 High-speed reduction boxes with parallel shafts
Using a fine-gear design with high contact and overlap ratios avoids the order noise of the motor's stator and rotor. In addition, thanks to optimized modifications and improved NVH performance, the gear drive runs smoothly. Adopting a lubricant system that can control churning and guide the transfer of lubricant along a fixed direction, the products have high transmission efficiency and reliability. Matched with a motor of up to 20,000 rpm, the vehicles offer outstanding performance when started with a high torque or when operating at high speeds.
NGW and NW high power density planetary gearboxes
Using floating load balance technology, the drive is steady while still boasting an excellent NVH performance at a maximum input speed of 16,000 rpm. At the same time, adopting a dynamic-static separation of the lubricant reduces churning losses and enhances transmission efficiency while meeting the cooling requirements of the lubricant.
Precision gear drive units
Processed with imported high-precision gear grinding or gear honing machines, NGC has sufficient processing capacity to provide multiple batches of four-level precision gears. The one-sided gear rolling tester can conduct 100% mesh testing for overall precision and NVH. The gear tester can perform Fourier detection and analysis to avoid any incidence of poor meshing. A cutter service life management system assists in lathe turning, gear hobbing and gear grinding, ensuring thermal treatment in line with CQI-9 requirements and guaranteeing stable quality of parts and components.

As a globally renowned solutions provider and manufacturer of gear drive systems, NGC boasts many years of experience in the design, development and manufacture of high-speed gears. NGC adheres to a management concept based on innovative thinking and zero defects, while fully promoting the IATF16949 quality control system and applying advanced simulation analysis technology in product design and development. Our manufacturing is based on constant-temperature precision processing and dustless intelligent assembly processes. These factors, plus NGC's lean production management enable us to fulfill the high-quality standards and traceability of all products.
NGC - Your trustworthy partner in the electric vehicle business.
Upcoming Events NGC Global
WindEnery Hamburg
24-27 September 2024
Hamburg, Germany
Hall B5, Booth 438
PR and Media
Mrs. Katja Garstecki
Phone
+49 203 509 600 12